---
A Note From Deana & Jason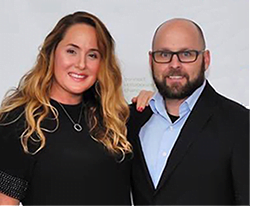 We've worked incredibly hard over the past 19 years to put together a cohesive team of people who are technically proficient and personable. We're growing again and looking to add our tight-knit, fun-loving group!
We are proud of our numerous awards, but our greatest asset is our team! We'd like you to hear from them. Below are some of the anonymous responses from I.T. Solutions of South Florida employees to the Best Places To Work award survey from the South Florida Business Journal.
---
"This is the best IT company I have worked for. From top to bottom everyone has each other's back. Everyone treats each other with respect, and everyone is very knowledgeable. Makes working easy."
---
"I absolutely love it here. When I tell other people what it is like working here, they immediately ask if we are hiring. I'm very grateful that I get to do what I enjoy and be appreciated for my skills."
---
"The best part of working at I.T. Solutions of South Florida is the people. Everyone genuinely cares about each other and the office comradely is truly unique. People form lifelong friendships and employees interact with each other socially both in and out of the office. I've never worked anywhere like this and I love it here!"
---
"I.T. Solutions of South Florida is the BEST place I have ever worked. We all work with love, integrity, and passion. We are a big family that supports each other every step of the way. I'm extremely grateful to work here!"
---
"Nothing is more valuable than leadership that supports you and genuinely cares about your happiness and success, both personally and professionally. I have never encountered a more amazing group of co-workers and I feel like that is a reflection of the company owners and their commitment to building a fun-loving and caring environment."
---
Thank you for considering a career at I.T. Solutions of South Florida.
Deana and Jason Pizzo