Our Team
---
We manage your technology, you manage your business.
---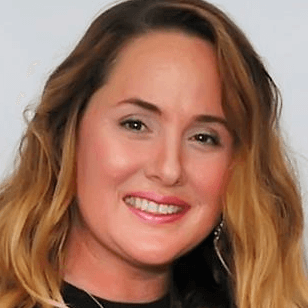 Deana Pizzo

Founder/CEO
Deana is not only an owner and cofounder of I.T. Solutions of South Florida, a Certified Women Owned Business, she is also a hands-on CEO and is responsible for the company's marketing, development and management.
Deana is an industry trendsetter and featured on the cover of ChannelPro Magazine (August 2017) for her breakthrough managed service offering: Co-Managed I.T. Deana earned a Women in Leadership Awards (WILA) 2018 nomination, and has led I.T. Solutions of South Florida to a spot on the Managed Service Provider (MSP) 500 List and the TOP 100 in the Managed Security Category regularly since 2018. The company continues to win awards every year under Deana's leadership, including being named as one of the Best Places To Work by the South Florida Business Journal. Deana was personally named to the prestigious 2020 Women of the Channel list by the CRN and the 2021 Influential Business Women List by the South Florida Business Journal.
Deana spends most of her free time serving her community and her family. She currently serves on the boards of the Business Development Board of Palm Beach County, CareerSource Palm Beach County, Leadership Palm Beach County, NonProfits First, and South Florida Tech Hub. She is also a board member of the Economic Council of Palm Beach County and earned the honor of serving as chair of the Dwyer Awards for Excellence in Education.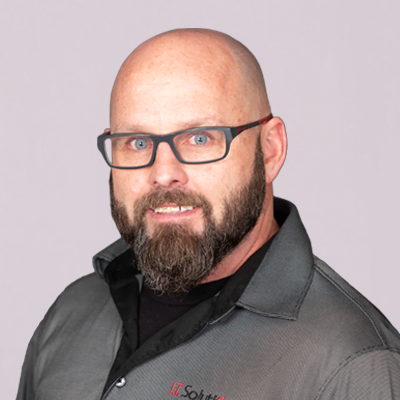 Jason Pizzo

Founder/CIO
Jason is a cofounder and owner of I.T. Solutions of South Florida. As CIO, he handles a wide range of responsibilities, including project management, customer account management, sales management and technology consulting.
He acquired much of his expertise serving our country in the U.S. Army's XVIII Airborne Corps 35th Signal Brigade as a Network Switching Systems Operator. Although Jason is no longer enlisted, he is still committed to serving his community as a board member for Clinics Can Help. Jason was also named a finalist for the Top CIO award at the 2019 Technology Awards from the South Florida Business Journal.
In his spare time, Jason enjoys spending quality time with friends and family, surfing, and traveling.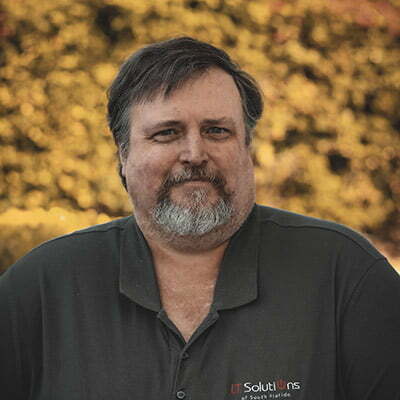 Wes

VP of Technology
As VP of Technology, Wes leverages his Bachelor of Science in Psychology and over 30 years of industry related experience to lead our technology team.
Wes has earned an alphabet soup of certifications (MCSE, CCDP, CCEA, CCA, ETC.), as well as more vendor-specific certifications than we could possibly list here.
In addition to being a voracious reader, Wes is a serious music aficionado. He owns more guitars than he'll ever get to play, and more keyboards than Yamaha. And when he's not making his own music, Wes fires up his sound board to help other musicians record their own material.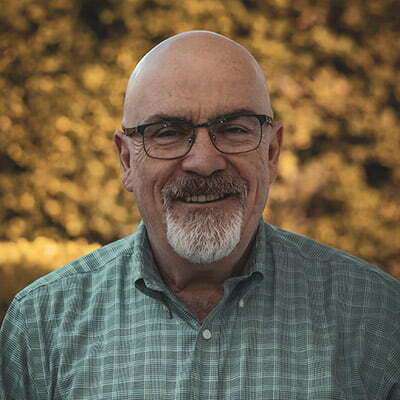 Mike

VP of Management Solutions
Mike brings 25+ years of industry experience, both as an executive and a management consultant, to his role in developing business-friendly technology solutions.
Mike has earned a reputation as one of the tech industry's most dynamic speakers, specializing in translating Geek into Business English, and has spoken on information security at more than 75 events. His focus has always been on how small and mid-sized companies can leverage technology to gain competitive advantages.
Mike is a product of New York University's award-winning journalism program and spent a decade in the newspaper business before falling victim to tech fever. In his spare time, Mike can be found embarrassing himself on the golf course.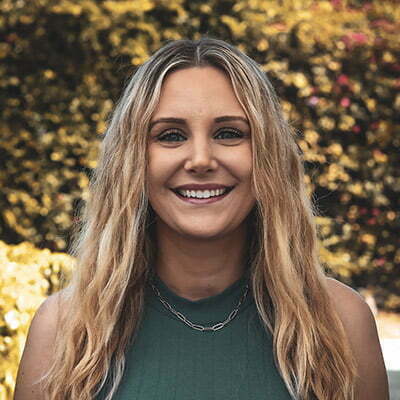 Brittany

Service Manager
As our Service Manager, Brittany still assists with our Help Desk, but her role has also expanded to include several critical backend functions.
Brittany has over 10 years of extensive experience and has worked in multiple positions within the I.T. industry. Her vivacious personality, enthusiasm for our clients and technical background make her a perfect fit for our team.
In her free time, the New Jersey native enjoys, going to the beach, working out, writing, and spending time with her twin boys.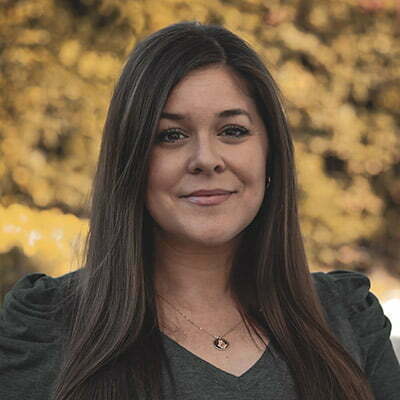 Sarah

Finance Manager
Sarah is responsible for finance, billing, and general business operations. Sarah holds a bachelor's degree in Communication Studies from Palm Beach Atlantic University and has more than 10 years of experience in the industry.
With such a proper job description, you would never guess Sarah also revels in dancing around the office while loudly singing her own misheard lyrics to songs for all to enjoy.
Sarah spends much of her free time with her husband, daughter, and their yellow Labrador retriever. She also enjoys hot sauce, reading, and traveling.
Lisa

Brand Ambassador
Lisa plans and manages all of our marketing efforts, including event coordination, client appreciation, maintaining our website, communications for our executive team members and community engagement.
She is a Florida native and graduated from Indiana University in Bloomington with a degree in Journalism. Lisa worked as a writer, photojournalist and fine art photographer before transitioning into marketing.
In her free time, Lisa enjoys photography and other creative endeavors.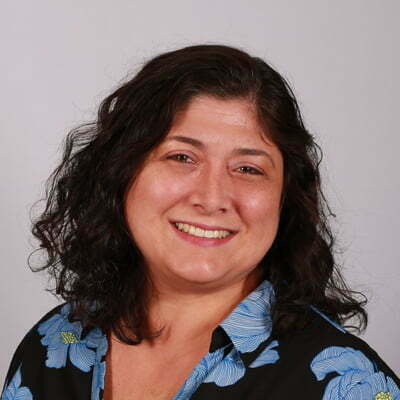 Kelly

Senior Client Account Manager
Kelly is responsible for managing client accounts and relationships, preparing quotes, facilitating client education and onboarding, in addition to assisting with sales and business development.
Kelly has an infectious personality that keeps our clients and vendors happy, knowing that she always puts their needs first.
Kelly holds a Bachelor of Science degree in Geology from FAU. When she is not working diligently, she is exploring with her son. They love spending time outdoors so that she can pass along her knowledge and passion for all things in nature to her son.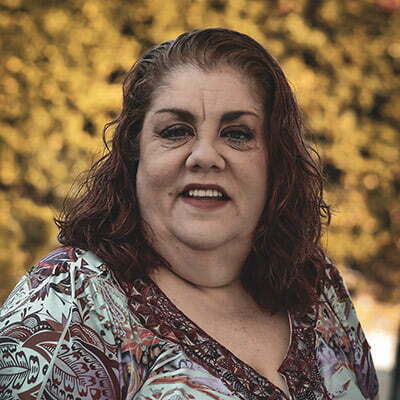 Theresa

Service Coordinator
After 15 years in a 225-square-foot studio apartment in New York, Theresa was ready to join the flock and fly South, but not just for the winter.
The Brooklyn native relocated to South Florida in December 2020 with her fiancé. Both were anxious to escape the cold, be closer to family, and live in a place where they could stretch their arms without touching the opposite walls at the same time. Her beloved cats also made the journey. Images of Luna and Booger are emblazoned on Theresa's purse so she can bring reminders of her feline friends everywhere (in case the occasional errant cat hair isn't enough).
Theresa also brought formidable customer service talents south with her. As our Technical Service Coordinator, she fields phone calls from our managed clients, triages help desk tickets and schedules our engineers. Outside the office, Theresa loves a variety of live music genres, the beach, and empty carbs – especially Italian pastries.
The product of boisterous Irish and Italian parents, Theresa says she was born "without an indoors voice." Fortunately for us, her outdoors voice is more than capable of pouring on the sugary sweetness, parking the Brooklyn 'tude in a side pocket, and providing exceptional service to our clients!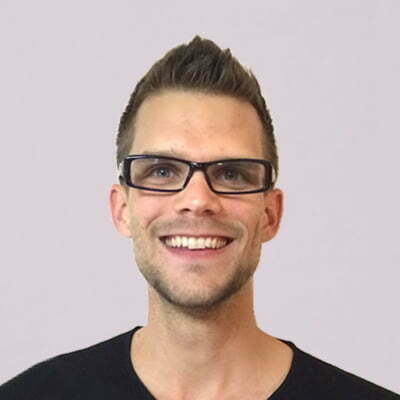 Daniel

Senior Network Engineer
Daniel's specialties include providing expert workstation and server support including Microsoft 365 business implementation, SharePoint Online infrastructure and design, and systems automation using Robotic Process Automation.
He has over a decade of industry experience and some mad SEO skills. Before joining I.T. Solutions, Daniel worked as a data security specialist and a computer repair technician. We've tried calling him Dan, oh Danny boy, and Danny Bag of Donuts, but he regards these as illogical because his name is Daniel.
Always the intellectual, Daniel puts the deep in deep V-neck t-shirt. Since he works entirely remote, we never see more than his top half on camera. We assume he's wearing jorts to compliment that daily deep V and perfectly manicured facial stubble. It also appears Daniel subsists wholly on a diet of bulletproof coffee, insanely loud celery crunching and air.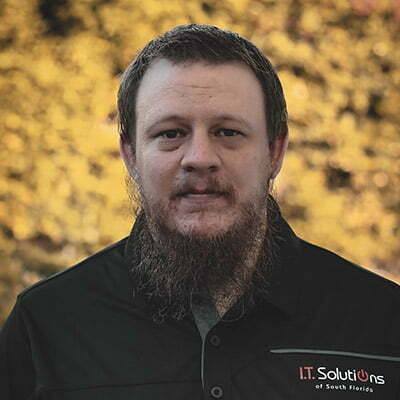 Matt

Senior Network Engineer
Matt is a security specialist with over 10 years of experience in the IT industry, primarily with managed service providers.
He is a Systems Security Certified Practitioner (SSCP) with extensive experience in implementing, monitoring, and administering IT Infrastructure in accordance with information security policies and requirements. Matt's skills will further enhance our focus on maintaining a strong security presence for our clients.
Matt relocated to South Florida from his native New Jersey in 2020. In his free time, Matt enjoys playing games, watching anime and sharpening his technology skillset. He's also a fan of sushi and mead, but not necessarily together. Matt lives with his girlfriend, Nikki, and an extensive cast of characters from Dungeons and Dragons and other fantasy tabletop role-playing games.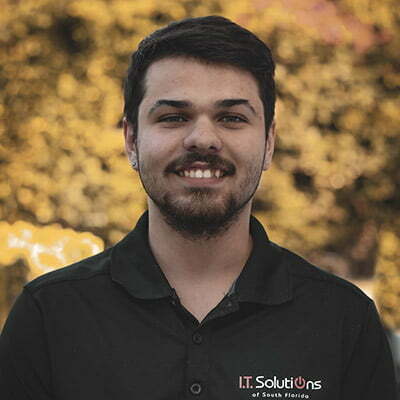 Collin

Network Engineer
Collin began his I.T. career with us as a college intern and we convinced him to stay. We couldn't be happier!
Collin brings an endless supply of enthusiasm to resolving the trouble tickets that come his way. He is always ready and willing to help, preferably if it doesn't involve driving on the highway.
In his free time, Collin enjoys building computers and learning about new ways to integrate emerging hardware and software technologies into education and business. He's also working tirelessly to try and win the affection of his cat, Missy, who continues to demand food while denying him normal feline affection.
Collin is truly a pleasure to work with. He is a quick learner and always ready to help in any way he can! And he's single, ladies!
Eddie

Network Engineer
Talk about multitasking! At night, Eddie is pursuing a bachelor's degree in Information Systems and Cybersecurity. By day, Eddie is winning over clients with his friendly voice on the phone. You can practically hear him smiling through the receiver as he deftly handles trouble tickets in either English or Spanish.
A native of Puerto Rico, Eddie moved to South Florida at 10 years old with his family. Like many of his peers, Eddie discovered the magical world of technology through computer games as a teen, and his enthusiasm – for computers and gaming – never waned. The power of the Internet further changed his life when Eddie met his future bride on Myspace. Ever sensitive to cybersecurity risks, Eddie is quick to point out that she messaged him first because they had several high school friends in common.
Eddie has a passion for haircuts with military style precision and all facets of cybersecurity. He earned a Google Cybersecurity Certificate and is working towards Microsoft Azure certification. When he isn't working or studying, Eddie loves spending time with his wife, their two children and the Chihuahua that runs their household. He also enjoys working on his Mustang, playing basketball, drinking pineapple soda and eating Chinese food. Probably all at the same time.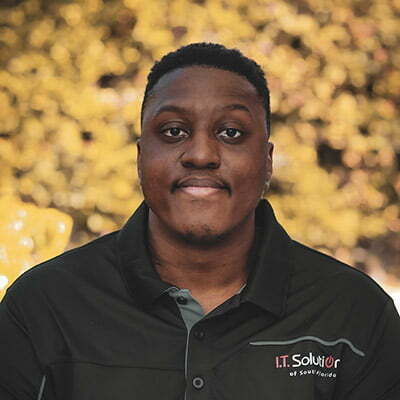 John

Network Engineer
John's passion for serving others is evident in both his personal and professional life.
As one of our frontline support desk engineers, John spends his days helping our clients with their most troubling technical issues.
By night, this reverse vampire's long-term goal is to donate 50 gallons of blood - even though he's afraid of needles! John generously donates his platelets so faithfully that ten years into his personal challenge, he's surpassed 10 gallons in 85 visits to the blood center. Each platelet donation takes about three hours, so you can easily get a sense of John's commitment and compassion.
John was born in West Palm Beach and raised in Jacksonville. He returned to his hometown after college and plans to further his education with a degree in computer networking. John enjoys anime and collecting beanie hats, a selection of which he wears to counter the effects of our bracing office temperatures. In order to keep his strength up for working tickets and donating blood, John favors the occasional hazelnut indulgence cake.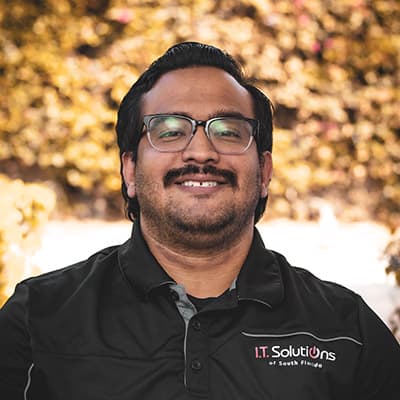 JP

Network Engineer
To say JP is focused on helping clients would be an understatement. In other words, he fits right in.
JP has worked in I.T. since earning his Associate in Science degree in Network Administration from Palm Beach State College in 2017. In addition, JP is bilingual, speaking English and Spanish fluently.
A native of New York, JP moved to Palm Beach county when he was eight years old. In his free time, JP enjoys hanging out with family and friends, playing video games, and talking and watching his favorite sports. Don't get him started on the Yankees, the Raiders, the Heat, or his favorite team of all - Microsoft Teams.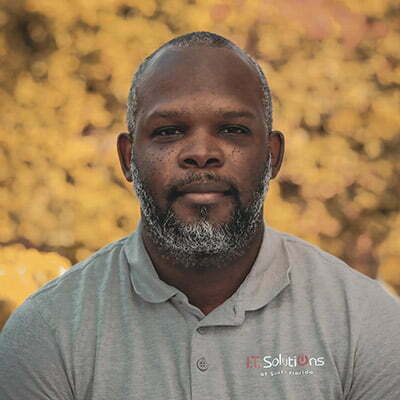 Mario

Network Engineer
Mario officially began his technology career at 18 as a clip-on tie wearing member of the Geek Squad. Since then, his skill set has grown exponentially, but his unofficial start in tech is far more interesting.
This native of South Florida, first came to appreciate the power of computing and the possibilities of the internet at just 11 years old. Against his mother's wishes, a young Mario secretly installed a CD burner on the family computer so he could download music online and transfer his song list to discs. In the age of dial-up internet connection, music was a hot commodity among his pre-teen friends and Mario quickly blossomed into a successful entrepreneur.
Mario has been on the straight and narrow since his Napster days, making the dean's list while earning a bachelor's degree in Information Management Security and Network Assurance from Palm Beach State College. He also received several security certifications.
Mario enjoys spending time with his family, rooting for the Philadelphia Eagles and singing Adele songs in the shower. In his free time, Mario is an ethical hacker, hunting for cybersecurity vulnerabilities on behalf of the good guys. Mario even has a playlist of symphonies and film scores from composers like Hans Zimmer that he enjoys listening to when he's really focused on a hacking project. We didn't ask where he got his tunes.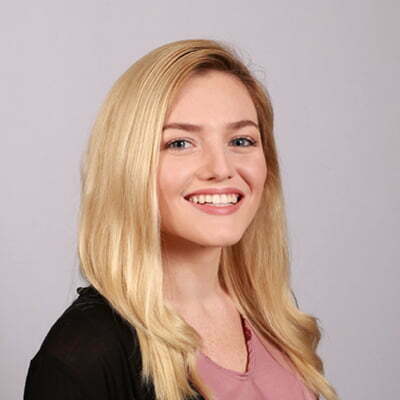 Megan

Network Engineer
Megan earned her Bachelor of Science degree in Management Information Systems from the University of South Florida. While in college, Megan interned for both a medical software company and a Managed Service Provider. She offers an empathetic approach to customer service and enjoys helping people when they are facing a challenge.
Megan was born and raised in Florida and enjoys the beaches, being out in nature, cooking and spending time with family, friends, and her dog.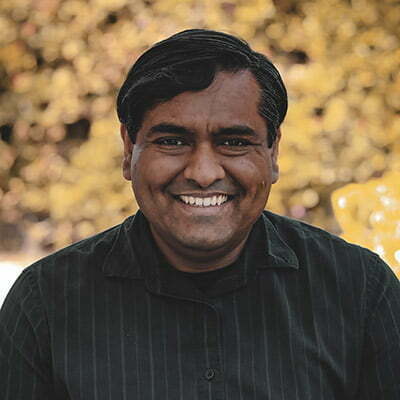 Sal

Network Engineer
Sal brings 20 years of I.T. experience, in a wide-ranging number of fields including financial, legal and automotive technology support. He earned a bachelor's degree in Information Management with a specialization in Information Security from Palm Beach State College.
His technology certifications include Sophos Certified Technician, Sophos Certified Engineer, Datto Certified Advanced Technician and Datto Certified Deployment Specialist.
Sal is a doting father to his young daughter. In his free time, Sal is an avid vintage PC game collector and also enjoys brewing his own beverages such as mead and wine.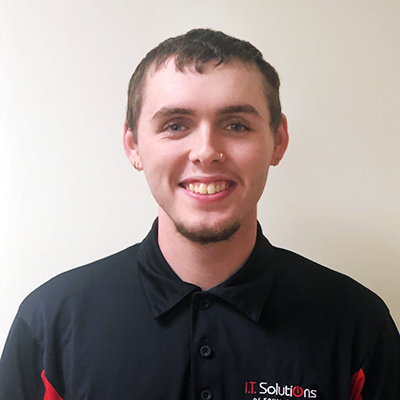 Gavin

Junior Network Engineer
Gavin became involved in computer technology at a very young age. As Deana and Jason's son, he had little choice! He built his first computer at the age of 10 and continues to be just as enthusiastic about technology.
Gavin is both personable and confident. In addition to being Deana's favorite, Gavin also fancies himself as the office eye candy. As the tallest person in the office, he is also in charge of reaching anything on the top shelf.
Gavin is also an avid gamer and drifting enthusiast.
FREE Network Evaluation
Don't wait until it's too late to get the information you need to protect your business.
---
---
We Manage Your Technology...
You Manage Your Business!
---
---
You may be interested in these articles