---
I.T. Solutions of South Florida will update this page regularly as more information becomes available.
---
We created this central information source addressing the various technology issues that may arise as this global pandemic forces more people to work from home.
---
We hold the health and safety of our employees - and yours - in the highest regard, so our entire team has been working 100% remote since March 16, 2020 when we activated our emergency response detailed below.
1. Our remote support will continue throughout the COVID-19 crisis. More than 94% of client issues are successfully resolved remotely. You create a support ticket, and our engineers do what's necessary to solve the problem without having to roll a truck to your site. This is the optimal scenario for you because it's by far the fastest way to tackle I.T. problems.
2. Occasionally I.T. problems require our onsite intervention. Due to the escalating incidence of coronavirus infection, we will provide onsite support for critical issues only. We define a critical issue as your network goes down, your core business application fails to work for key employees, and other issues of that nature.
3. Issues of a non-critical nature that require onsite intervention will be scheduled and dealt with once the public health crisis has abated. This is for the protection of your employees as well as ours.
4. Depending on the nature of the critical problem, we may request access to your workspace before or after the main business hours. This will minimize the kind of close contact health officials have been discouraging.
6. We encourage you to consider your ability to have your employees work remotely. We stand ready to help steer that initiative from the technical side. Just call us.
7. Also, we remind you to ask your employees to wipe down their keyboard, mouse, and any other surface they touch regularly. Those two peripherals, in particular, are traditionally among the most frequent infection vectors in office environments.
We never expected to be confronting this type of challenge, and we want to get it right. Your feedback can help. So please don't hesitate to contact us if you have any questions or if there's anything we missed.
Be well, Deana and Jason Pizzo
 We wanted to take this opportunity to make some general suggestions on how to weather this pandemic remotely while keeping your people fully productive.
Microsoft Teams is a powerful remote collaboration tool that is already included in your Office 365 license. It enables you to ditch your GoToMeeting, WebEx or Zoom solutions. Employees can message each other, share each other's screens, teleconference, and work from home without missing a beat. (Teams is an essential part of our day-to-day business, and it's become absolutely critical as my entire team is working fully remote now.)
OneDrive and SharePoint empower your people to work on the same documents, spreadsheets, presentations or projects simultaneously. Forget worrying about version control (where two or more people are working on the same doc without visibility into what the others are doing). Now, when they have the same file open, each can see what the other person is adding or changing in real time. (This is also included with Office 365.)
These tools also put your in-office file structure into the hands of your staff, with the same access controls, from anywhere they can open a browser.
Even without these Office 365 capabilities, you can set up Remote Desktop Services sessions to give temporarily homebound workers access to their office-based computer and network.
If you have a VoIP system, your employees can usually take their phones home with them and answer their direct office line from the kitchen table. Check with your VoIP provider for specifics.
Be sure to use a VPN connection if your employees are conducting business via Wi-Fi. Covid-19-inspired work-from-home policies can become a field day for hackers. Don't let them in.
If your employees are working from home using their own machines, make sure they aren't using the Windows 7 operating system. That system is obsolete and no longer receiving patches or security updates, which also opens your network to cybercriminals.
Don't forget to take advantage of services you often take for granted, like call forwarding to have your office calls automatically redirected to cell phones.
We know this all sounds complicated. It doesn't have to be. Our mission is to support our clients and make them as resilient and secure as we can.
We can help transition your operations to accommodate social distancing through working from home. Just give us a call and we'll talk about where you're starting from, and where you want to go.
Cybercriminal activity is always evolving, and now hackers are banking on the novel coronavirus having potential victims distracted when clicking a link.
Hackers are capitalizing on fears and the quest for information by creating malicious websites disguised as popular COVID-19 maps. When unsuspecting users click on the map, they are prompted to open an applet. This software infects the computer and opens the device to hackers looking to steal valuable information like login credentials and financials.
To avoid malware, users should verify the URL of the website is legitimate and avoid downloads from unknown sources. The COVID-19 map from Johns Hopkins University is a trusted link.
Our partners at Sophos recently reported on a phishing scam using coronavirus information as bait. Hackers are posing as health officials like the CDC or World Health Organization with the goal of tricking email recipients into disclosing their login credentials in exchange for information on the spread of the virus or prevention measures.
One way to make sure a link is legitimate is to hover your mouse over the link in the email. Hovering over the link will reveal the real URL where you will be sent if you click on the link. A suspicious link won't contain the website you want to go to and may redirect to a website designed to steal your information or infect your device.
Stay vigilant online and don't let hackers scam you out of your valuable personal information!
We strongly recommend harnessing the power of Microsoft Teams to encourage instant communication and teamwork during these stressful times. And it's free!
Teams is an essential part of our day-to-day business, and it's become absolutely critical as our entire team has been working fully remote since mid-March in response to the coronavirus pandemic. Microsoft Teams keeps your team feeling connected with impressive video capabilities, and the instant message feature dramatically reduces those one-line emails clogging your inbox.
This Microsoft solution enables you to ditch your Slack, GoToMeeting, WebEx or Zoom solutions. Employees can message each other directly or in groups, share each other's screens, send files, teleconference, and work from home without missing a beat. Direct messaging and video chats will also keep your team engaged and can provide some much-needed camaraderie during this stressful period.
Teams can also record video so you will never have to miss an important meeting. Since it is part of the Office 365 suite, Teams seamlessly integrates with your Outlook calendar, Word, Excel, and more. There are also hundreds of apps that further enable Teams to collaborate with other productivity tools. The opportunities for increased efficiencies, especially while working remotely, are endless.
In one of our many Teams channels, we keep a live video stream of our entire team at their desks so you can instantly pop on the live feed and see who is available when you need to collaborate or speak directly with a team member. (This also provides a great opportunity to catch those awkward moments trending on social media in which a child or pet makes an unwelcome appearance.)
Microsoft Teams is a powerful remote collaboration tool and it is already included in your Office 365 license! If you don't have Office 365, you can still get all the benefits of Teams for free with a special promotion from Microsoft. Give us a call if you would like to learn more or have any questions.
Whether working from home or in the office, collaborating with your team on a project can be challenging when a presentation or important document is emailed amongst team members for review and updates.
This creates multiple versions of the same critical file and can result in confusion over which document is the most up-to-date and complete. SharePoint eliminates this workflow woe by securely storing the file in one location and allowing every team member to work on the file at the same time. When the shared file is open, each person can see what the other person is editing or changing in real time.
Additionally, SharePoint users can track changes to the document, see who made the changes, and add comments such as a request for clarification. If desired, SharePoint alerts can notify you if a document is updated.
Documents can be tagged with metadata, which are important keywords that can be used as a search term. Use these metadata tags to quickly find every document associated with a project instead of wading through complicated layers of folders and subfolders. Establishing retention policies can prevent accidental deletion or overwriting of files. No more searching endlessly for files or worrying critical documents landed in the recycle bin.
SharePoint goes well beyond Word documents. It also empowers you and your team to work on the same Excel spreadsheets, PowerPoint presentations or Microsoft Project timelines projects simultaneously. SharePoint is the perfect tool for storing, managing, and organizing critical business documents while promoting seamless collaboration and teamwork.
One of our top priorities is keeping you online, whether working from a traditional office, your new home office or anywhere in between. While Microsoft offers a plethora of remote collaboration tools, we recognize Zoom is an extremely popular alternative for online meetings and educational institutions.
So, we wanted to take a few minutes to make sure you are using Zoom safely!
Password: When creating a Zoom meeting the default setting is to require a password. Keep this box checked or anyone can gain access to your meeting!
Waiting Room: We recommend enabling the waiting room feature in the Advanced Options if you are the host of the meeting. This prevents a user from accessing the meeting until they are admitted by the host and keeps out unwanted guests.
Updates: Keep Zoom updated to ensure you are utilizing the latest security release. To update, click on your user icon on the top right. From the drop-down menu click "Check for Updates." If new updates are available, a message will appear: "Update Available." Click on "Update" to install.
New Meeting Every Time: A Personal Meeting ID (PMI) is assigned to each Zoom user when an account is created. If someone has your PMI, they will always be able to check if you are hosting a meeting and potentially join uninvited if a password isn't configured. We recommend creating a new meeting each time and sharing that unique meeting code instead of sharing your PMI.
More Security: As additional levels of security, the host can also prevent participants from sharing their screen and lock the meeting once all participants have joined.
Don't Share: Don't publicly post a link to your meeting through social media or online.
Legitimate Site: Make sure you download zoom from the legitimate Zoom website and not a secondary site that could be malware.
Phishing: Beware of phishing scams asking you to verify your zoom credentials.
Privacy Issues: According to news reports, Zoom is currently under investigation in New York and is being sued in California for sharing user information, which allows other companies to target users with ads.
Known Vulnerability: Zoom has resolved a vulnerability that allows cybercriminals to steal your credentials using the Chat feature. You may still be vulnerable if Zoom is not up to date. See Updates above for more info.
As a reminder, Microsoft Teams is an excellent solution for video chats and instant communication. Teams is already integrated into your Office 356 license and offers you the capability to host live meetings for up to 10,000 people at once!
If you would like more information about Teams and other Microsoft solutions for working remotely, just let us know!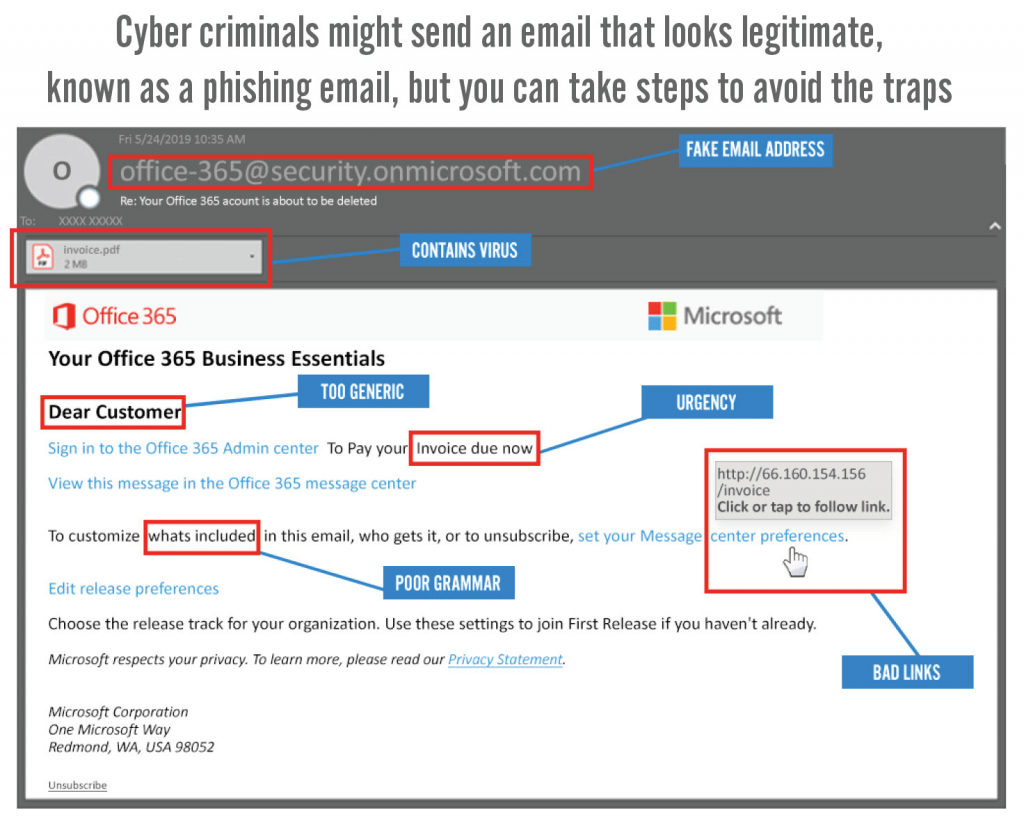 Cyber criminals might send an email that looks legitimate, known as a phishing email, but you can take steps to avoid the traps!
Watch For Overly Generic Content And Greetings Cyber criminals will send a large batch of emails. Look for examples like "Dear valued customer."
Examine The Entire From Email Address The first part of the email address may be legitimate, but the last part might be off by letter or may include a number in the usual domain.
Look For Urgency Or Demanding Actions "You've won! Click here to redeem prize," or "We have your browser history pay now or we are telling your boss."
Carefully Check All Links Mouse over the link and see if the links destination matches where the email implies you will be taken.
Notice Misspellings, Incorrect Grammar, & Odd Phrasing This might be deliberate attempt to try to bypass spam filters.
Check For Secure Websites Any webpage where you enter personal information should have a url with https://. The "s" stands for secure.
Don't Click On Attachments Right Away Virus containing attachments might have an intriguing message encouraging you to open them such as "Here is the Schedule I promised."
This video is an excerpt from a larger presentation by Mike Gavaghen, VP of Management Solutions of I.T. Solutions of South Florida. This clip focuses on cybersecurity when your team is working from home.
This video is an excerpt from a larger presentation by Mike Gavaghen, VP of Management Solutions of I.T. Solutions of South Florida. This clip focuses on maintaining your corporate culture when your team is working from home.
As we transition into the new normal, we are now offering onsite visits on a limited basis.
Our network engineers will adhere to safety protocols such as social distancing and wearing a mask and gloves onsite. We would prefer to schedule onsite visits Monday morning before 8 a.m. or outside your regular office hours. This will minimize close contact for the protection of your employees as well as ours. We have missed seeing you, but we would like to remain cautious at this time! As always, we love being your technology partner and we remain invested in your success and continued safety. Thank you, Deana and Jason
---
FREE Network Evaluation
Don't wait until it's too late to get the information you need to protect your business.
---
These guys took on my problem as if it were on their own computer. I always receive the best service from Jason and his team of experts. Chances are if you're not using I.T. Solutions, you're looking for someone like them.
Eric Kashmanian
Eric's Wrench
---
We Manage Your Technology...
You Manage Your Business!
---
---
You may be interested in these articles