This year opened under a cloud of uncertainty but delivered life-changing moments to several of our engineers and our business. 2021 was also our most award-winning year ever!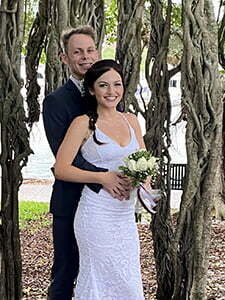 Over the summer, Ms. Megan Knipper became Mrs. Megan Hellriegel. Despite the intimidating last name, Megan is still one of the sweetest people in this time zone. However, one major life moment a year just wasn't enough for this network engineer extraordinaire. Megan and her husband recently moved to North Carolina and are in the process of buying their first house this month.
Thanks to the connective power of technology, her supportive employers, and her incredible work ethic, Megan continues to work full-time for us from her new work-from-home office in North Carolina.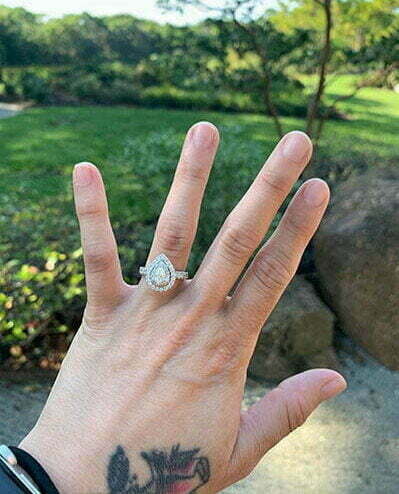 Network Engineer and former Fabio hair model JP will also find himself at the marriage altar soon, but not this year! He proposed to his girlfriend of three years in early December. Jess said yes, and probably muttered "finally" under her breath after waiting not so patiently for him to pop the question!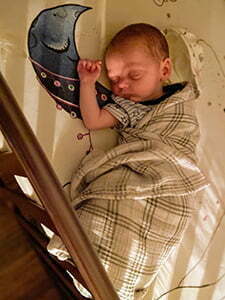 Also, this summer, scripting samurai Dustin Allard and his wife Meg welcomed their second baby boy into the world! Their first son, Charlie, became a big brother to Tommy in August. As every proud parent does, Dustin and Meg assert their children are the most adorable and smartest on the planet. Both Charlie and Tommy have already demonstrated an interest in technology and aptitude for turning off the computer while Dustin is trying to work.
Since the boys lack the manual dexterity and adequate vocabulary to support our clients over the phone, we opted to obey child labor laws and hire two new adult network engineers this year.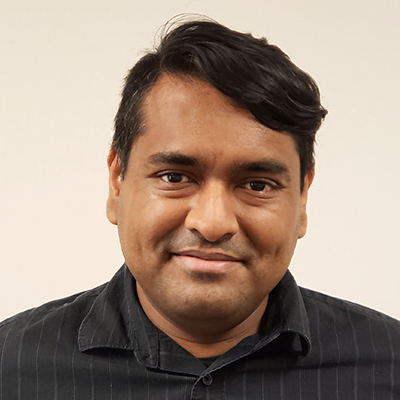 Sal Maharaj joined our team in July, bringing with him 20 years of I.T. experience, in a wide-ranging number of fields including financial, legal and automotive technology support. His career focus on cybersecurity dovetails with our ongoing commitment to shoring up the integrity of information assets across our client base. Once on the team, Sal tore through his training and was closing trouble tickets in a matter of days.
Sal is also a doting father to his young daughter. In his free time, he is an avid vintage PC game collector and enjoys brewing his own beverages such as mead and wine. Learn more about Sal here.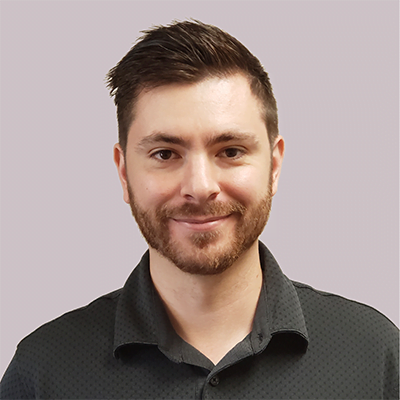 The second engineer to begin serving I.T.S. clients this year is Josh Copcutt. He came to us in late September after nearly 10 years in various roles within the technology industry. Josh chose to join the I.T. Solutions of South Florida family after learning more about our core values and company culture.
In his free time, the New Jersey native enjoys playing video games and spending time with his wife Maria and their son Liam. When pressed for interesting facts or tidbits to make him more human for this bio, Josh panicked. As the sweat began to bead up on his brow, Josh declared he had tickets to work. He's been feverishly taking calls ever since! Learn more about Josh here.
The addition of Sal and Josh to our esteemed engineering team will help us continue providing our clients with the level of expert care and technology support they deserve. We are looking to hire again next month to keep pace with our growing client base.
"Our clients are continuing to grow as a result of many factors including increased technology efficiencies and reliability," company CEO Deana Pizzo explained. "Our continued success and record-breaking growth are a direct result of the hard work and dedication to our clients displayed by every member of the I.T. Solutions of South Florida team. I can't thank them enough!"
We've added some incredible new clients this year as well, including the South Florida Fair and the Palm Beach Zoo & Conservation Society. "We appreciate all of our current clients, and we are honored the South Florida Fair and the Palm Beach Zoo selected us as their trusted technology partner," said Deana.
It wasn't a wedding, but we made a big commitment of our own this year! In October, we purchased a building in Hypoluxo to establish a permanent headquarters for I.T. Solutions of South Florida. We've outgrown our current rental space and anxiously await our new home, customized for our specific needs by Cooper Construction Management. Demolition is scheduled for March 2022, and we hope to be settled in by the fall!
Our continued growth prompted the need for a larger, permanent headquarters. That same growth helped us garner national attention and led to our winningest year to date! For the first time in our nearly 18-year company history, we earned a spot on the coveted Inc. 5000 list, the most prestigious ranking of the nation's fastest-growing private companies.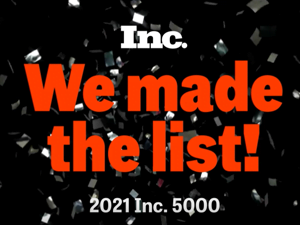 "This is definitely a bucket-list moment for our business," Deana said after Inc. magazine revealed that I.T. Solutions of South Florida recorded 72% growth and placed number 4139 on its annual Inc. 5000 list.
GrowFL honored us for our past growth as well as our promising future. We were pleased to be among the top 50 second-stage companies in Florida selected as an 11th Annual GrowFL Florida Companies to Watch Honoree, a statewide competition that identifies companies expected to see significant growth over the next several years.
In yet another first for us, we won two awards from local chambers of commerce. In June, we were named the Small Business of the Year by the Palm Beach North Chamber of Commerce.
In September, we were honored with the ATHENA Organizational Leadership Award bestowed by the Chamber of Commerce of the Palm Beaches. The ATHENA Organizational Leadership Award is given annually to a business or organization that creates an organizational culture that encourages women employees to achieve their full leadership potential and gives back to the larger community of women and girls by providing and/ or supporting leadership development opportunities and initiatives.
On a personal level, Deana earned two firsts of her own this year. She was named on the 2021 Influential Business Women list by the South Florida Business Journal in March. Deana is also one of just 55 leaders in the entire state invited by the Leadership Florida Selection Committee to join the 39th Cornerstone Class program. The program is an intensive nine-month learning program that consists of a series of multi-day sessions held in cities throughout the state.
We won several other awards this year, including our second Fast 50 ranking by the South Florida Business Journal, making 2021 our most award-winning year ever!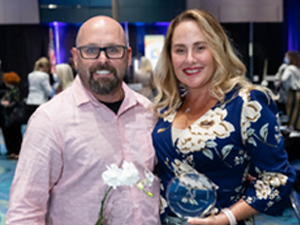 "I know I sound like a broken record, but I can't thank our staff and our clients enough. This has been an amazing year," said Deana. "Jason and I are looking forward to an equally exciting New Year!"