The South Florida Business Journal Named Deana Pizzo As One Of 25 Influential Business Women
"This is a very humbling experience. To be listed among such amazing and hardworking women is truly a compliment," said Deana Pizzo, CEO of I.T. Solutions of South Florida.
"Over the past 17 years, our company has earned several awards. The one I've always been most proud of is being named among the 'Best Places to Work' because we've worked hard to build a fantastic team and create an enviable corporate culture. I never expected such a high honor for myself. I feel very blessed to be considered an Influential Business Woman and to have the support of my amazing team," she said.
Pizzo is one of 25 business leaders selected for this annual award by the South Florida Business Journal. In addition to Pizzo, the honorees are:
Christine Barney, CEO and managing partner, RBB Communications
Sandra "Sandy" Bennett, Executive director, KW Property Management & Consulting
Yolanda Cash Jackson, Shareholder, Becker & Poliakoff
Giselle Cushing, Market president, South Florida and the Caribbean, Cigna
Barbara Fernandez, Partner in charge, Miami office, Hinshaw & Culbertson LLP
Jacqui Hartnett, President, Starmark
Nadine Heubel, CEO, Heinemann Americas
Adriana Jaegerman, VP, regional business leader, Buildings, South and Central regions, Stantec
Katy Lingle, Managing director, J.P. Morgan Private Bank
Liliam M. Lopez, President and CEO, South Florida Hispanic Chamber of Commerce
Sigrid McCawley, Managing partner, Boies Schiller Flexner
Adriene McCoy, Senior VP and chief human resources officer, Baptist Health South Florida
Alison W. Miller, Director and shareholder, Stearns Weaver Miller Weissler Alhadeff & Sitterson, P.A.
Caroline O'Connor, COO, Miami Marlins
Michelle L. Palacio, VP of government relations and executive director of Washington Initiatives, Florida International University
Ava L. Parker, President, Palm Beach State College
Glenda G. Pedroso, Executive VP, national banking practice executive, Northern Trust
Stacy Ritter, President and CEO, Visit Lauderdale
Katherine (Kathy) Ross, Chief information officer, Broward Health
Kerry-Ann Royes, President and CEO, YWCA South Florida
Alyson Silva, VP of finance and CFO, Nova Southeastern University
Kelly Smallridge, President and CEO, Business Development Board of Palm Beach County
Ann Marie Sorrell, President and CEO, The Mosaic Group; founder and president, Cannabiziac
Tina Vidal-Duart, CEO, CDR Health, and executive VP, CDR Maguire
The article below, written by Jeff Zbar, appeared on page 34 of the April 9, 2021 edition of the South Florida Business Journal. To see the full story and learn about all the 2021 Influential Business Women, click here: https://bit.ly/3wOX8La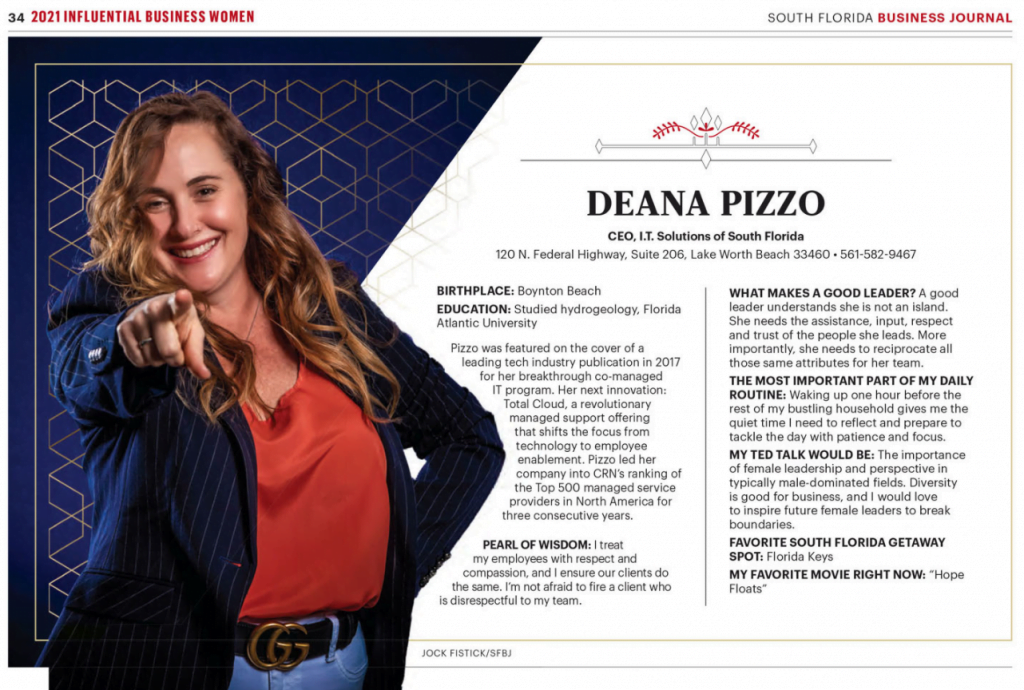 DEANA PIZZO
CEO of I.T. Solutions of South Florida
120 N Federal Hwy #206, Lake Worth, Florida 33460 • 561-582-9467
BIRTHPLACE: Boynton Beach, FL
EDUCATION: Studied hydrogeology, Florida Atlantic University
Pizzo was featured on the cover of a leading tech industry publication in 2017 for her breakthrough co-managed IT program. Her next innovation: Total Cloud, a revolutionary managed support offering that shifts the focus from technology to employee enablement. Pizzo led her company into CRN's ranking of Top 500 managed service providers in North America for three consecutive years.
PEARL OF WISDOM: I treat my employees with respect and compassion, and I ensure our clients do the same. I'm not afraid to fire a client who is disrespectful to my team.
WHAT MAKES A GOOD LEADER? A good leader understands she is not an island. She needs the assistance, input, respect, and trust of the people she leads. More importantly, she needs to reciprocate all those same attributes for her team.
THE MOST IMPORTANT PART OF MY DAILY ROUTINE: Waking up one hour before the rest of my bustling household gives me the quiet time I need to reflect and prepare to tackle the day with patience and focus.
MY TED TALK WOULD BE: The importance of female leadership and perspective in typically male-dominated fields. Diversity is good for business, and I would love to inspire future female leaders to break boundaries.
FAVORITE SOUTH FLORIDA GETAWAY SPOT: Florida Keys
MY FAVORITE MOVIE RIGHT NOW: "Hope Floats"