---
Don't be confused by "The Cloud!"
---
"Cloud Computing" is a common term, but sometimes the definition feels vague. We are here to help you understand and manage your technology, including the terminology, so you can be more efficient and better manage your business.
In simplest terms, Cloud Computing is computing over the internet, which is the cloud. You are already utilizing the convenience of Cloud Computing in your everyday life if you use an online service like Hotmail to send email, edit documents in Google Docs, play games online or watch Netflix.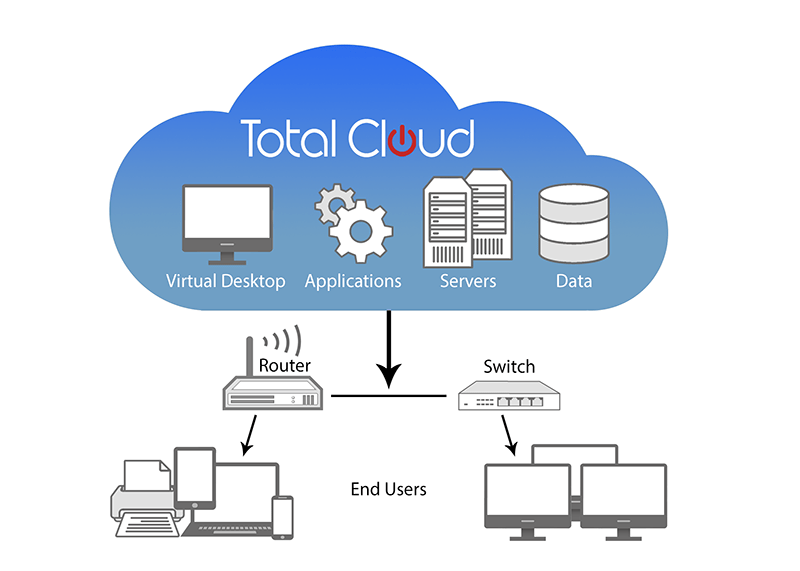 Cloud Computing replaces the traditional notion of complex hardware and costly software. Computing services like applications, storage and processing are delivered via the cloud allowing for faster innovation, flexible systems and increased resources on demand.
---
Benefits of Cloud Computing
Cloud Computing eliminates the tremendous upfront capital expense of purchasing software and establishing a physical network of servers. There's no risk of overspending on hardware or under allocating resources. You only pay for the services you need, as you need them. The Cloud hosts all your data, applications, services and resources online for easy access and endless flexibility.
Cloud Computing is completely customizable, and resources can be allocated on demand as needs change. As long as the user has an internet connection, resources and computing power are instantly available as needed around the globe.
Cloud Computing services are delivered from a global network which is constantly upgraded for reliable performance and maximum efficiency. Hosting computing in the Cloud, instead of the local hard drive, offers the added benefits of additional processing power on the local machine and increases real-time team collaboration.
Your data and network will be safe in the Cloud. With Cloud Computing, you don't have to fear hardware failures or natural disasters like hurricanes, lightening, flooding, and fire. Security protocols can be applied across your infrastructure to protect your valuable data, applications and network from online threats.
Cloud computing centralizes information, so data is readily available to all users from any location and any device. Business continuity is a breeze because data can be mirrored at multiple redundant sites.
---
---
Contact us today, and find out how to Total Cloud can revolutionize the way you do business.
---
FREE Network Evaluation
The business and tech landscapes change fast. Is your network future-ready?
---
We Manage Your Technology...
You Manage Your Business!
---
---
You may be interested in these articles